Hereford & Hops
Our history
Hereford & Hops opened in 1994, but the building we call home has been part of Escanaba's history for over a century! Our story truly begins in 1912, when a group of Escanaba businessmen started making plans to build a grand hotel in the city. On paper, Escanaba had no shortage of lodging facilities since 35 hotels and rooming houses were already open at the time. But none of these facilities included more than 30 rooms, and the city needed a first-class hotel worthy of its status as a hub for industry, commerce, and recreation.
Led by John J. Cleary, the group bought a site that year for what would soon be dubbed the Delta Hotel. The project was nothing if not ambitious, as the five-story, all-brick structure was slated to be the tallest building in town. The group's chosen location for the hotel was a parcel on the northeast corner of Ludington Street and Campbell Street, now known as Seventh Street.
Building the Delta Hotel was far from simple, and construction difficulties forced the project to miss its scheduled December 1913 opening date. Along with this, the group spared no expense when it came to creating a world-class hotel for people spending the night in Escanaba. It cost over $100,000 to build the Delta Hotel (or more than $2.75 million in today's money).
But on January 15, 1914, the hotel finally opened its doors to the world with a grand opening ceremony. The night before it officially opened, visitors enjoyed a banquet and entertainment from Escanaba's military band and a traveling cabaret company. And these were no ordinary visitors – everyone from former Escanaba mayor John Hartnett to Speaker of the Illinois Assembly William McKinley was in attendance.
During its first night of operation, Fond du Lac, WI's Wisconsin Hotel Co. (the company hired to operate the Delta Hotel) welcomed hotel owners and managers from five separate states as the new hotel's first guests. They stayed on the building's top four floors, which housed a total of 80 guest rooms. The ground floor was home to amenities such as a large lobby and – in a bit of unintentional foreshadowing – a grill room with a bar.
Ownership of the Delta Hotel would change hands a few times over the years. By 1930, the building belonged to one C.J. Burns, who went to great lengths to keep the hotel up to date. One of the most significant improvements C.J. made was establishing a bar in the hotel's basement, which he named See-Jays Bar after his initials.
After C.J.'s passing, his widow, Katherine W. Burns, transferred the Delta Hotel building's ownership to James and David Walsh in 1957. It went on to be owned by various people and organizations – including the Diocese of Marquette, which bought the building in 1962. However, they did not intend to continue operating the Delta Hotel; instead, the diocese wanted to convert the structure into a nursing home. This facility, known as the Bishop Noa Senior Citizens Home, opened the following year.
Decades later – in February of 1992, to be precise –we visited Green Bay, WI, and ate at a grill-your-own steakhouse. Inspired by the then-novel concept, we decided to bring it back to the Upper Peninsula. And just one month later, the former Delta Hotel/Bishop Noa Home building went up for sale. It was the perfect location for more reasons than one – we already owned Gust Asp Party Store, located right next door to the building.
That's how the "Hereford" side of our business got started. However, the "Hops" wouldn't enter the picture until that December, when the State of Michigan officially legalized brewpubs. At that point, renovation work on Hereford & Hops had already begun. Still, we decided to get in on the ground floor of this new opportunity by adding a brewery to our new restaurant.
Transforming what was once a home for senior citizens into a fully functioning restaurant and brewery (and 32 apartments above) took quite a bit of effort. Our goal was to highlight the building's historical significance while creating an atmosphere inspired by British pubs. Keep an eye out for the coins still embedded in our floors today – they're dated 1914 and 1994, in tribute to the years when the Delta Hotel and Hereford & Hops opened.)
While the Delta Hotel couldn't make its December opening date, that wasn't the case for Hereford & Hops. Just before 1994 came to a close, we officially became the Upper Peninsula's first brewpub. When our restaurant opened, it was also the third brewpub in Michigan as a whole and the state's first and only grill-your-own steakhouse. But we didn't forget our roots while making history, either. In June 1998, the U.S. Park Service placed our building on the National Register of Historic Places – officially recognizing a legacy we hope to add to for years to come!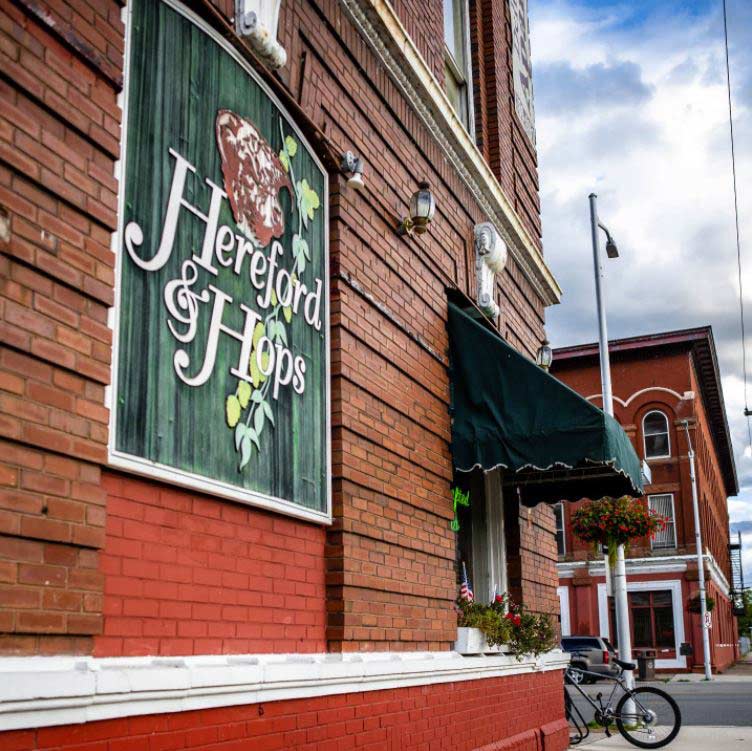 private parties
host your event with us!
Whether you're planning a reception, graduation, birthday, or family gathering Hereford & Hops has you covered. We take pride in crafting a memorable celebration with delicious food and service that will wow guests. Let us do the work so you can focus on celebrating.
Contact Us for more information.